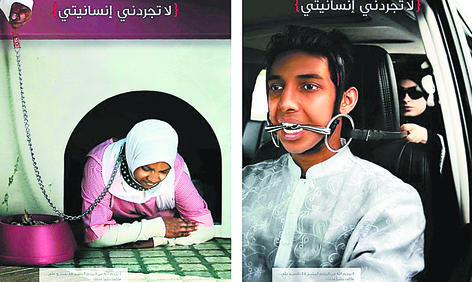 The Philadelphia Inquirer

:
Images from the public- service campaign show an Indian driver with a bit in his mouth and an Ethiopian maid kneeling in a doghouse.
"The man behind the television announcements and newspaper inserts says that it is time for Saudis to stop ignoring the issue and that their Muslim faith should compel them to act."



Advertising Executive, Kaswara al-Khatib

Kasawara al-Khatib has good intentions when he created this Public Service Announcement. Especially since he is addressing the abuse of Saudi employers towards their servants. Yet, I don't think this PSA poster/image does its job. I believe it would have been more effective if a Saudi person was in the position of the servant on a leech, to remind these employers that servants are human just like them. To put them in their place and let them think, "what if that was me."
Good idea Mr. Kaswara al-Khatib, but I hope you can create a stronger image to make the Saudi people think... with out getting arrested by the government of course. We don't want you to disappear into the night.